Special Blanket Rehearsal and Collection Point Event
National Cathedral, 3101 Wisconsin Ave. NW, Washington DC
December 14, Noon-3:00 pm
In preparation for our #memorialblanket event on the West Lawn of the US Capitol, the US National Cathedral is showing its support by allowing us a dress rehearsal in their courtyard. Blanket makers and housing advocates are invited to join us as we put 50 of the 1000 blankets into an art installation for the community to see.
Additionally, knowing the holiday weeks of both Hannukah and Christmas are busy for many, we will also be collecting blankets for the upcoming primary display on the US Capitol West Lawn - December 21st - just one week later.
People who intend to be out of town during the holiday week can leave the blankets with the #memorialblanket crew at the cathedral and we will bring them to the capitol the following week.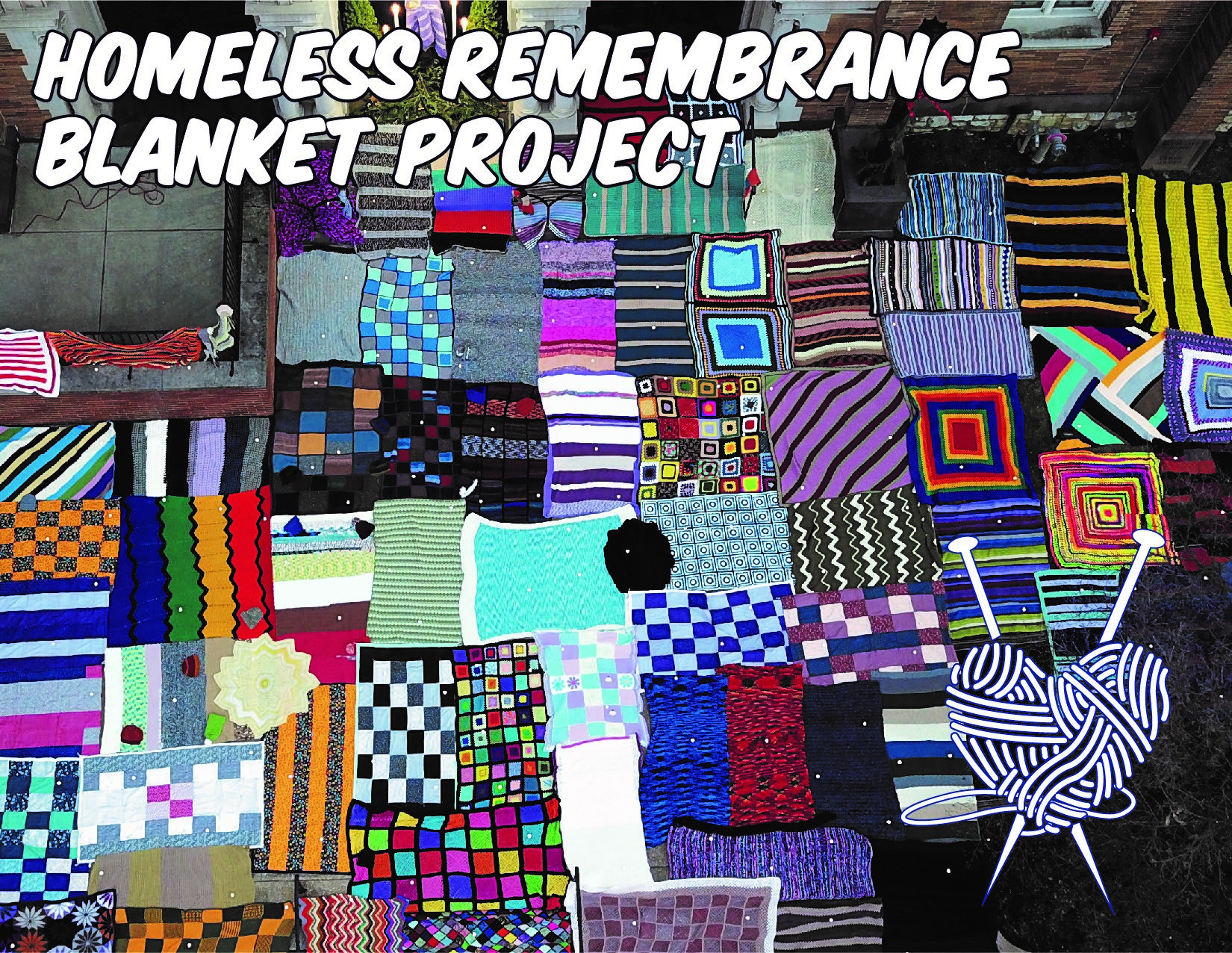 The Homeless Remembrance Blanket Project will be an art installation at the nation's capital on December 21, 2022 – the day we think, not only of those who live unstably housed but of those who die that way.
Generous blanket makers knitting, crocheting, or quilting will create a special gift for a total stranger experiencing homelessness. We would like twin and full-sized blankets: 45 x 80 inches or 60 x 80 inches.
After the event at the capitol, the blankets will be distributed to those in need.
Each state is encouraged to make 100 or more blankets – shipping 10 of them to the event in DC and distributing the others through outreach organizations across their state.
IMPORTANT UPDATE (22 October 2022)
The Homeless Remembrance Blanket Project is now accepting baby blankets of any size!
Why? According to the National Institute for Health, "The neonatal mortality rate was 38% higher and the postneonatal rate 47% higher in high poverty." Homelessness is high poverty, and that means the 47 PERCENT HIGHER bracket. Infants are born into homelessness every day. If you make a baby blanket for the project, it won't solve the problem, but it will have a massive impact on the eyes of those who live, work, or walk by the US Capitol on December 21st. We will even have a special section for the baby blankets that will include a high chair and playpen. Plus, we'll make sure those blankets get to a baby in need.
Stay up to date on Homeless Remembrance Blanket Project by clicking the button below.
Help fund the Homeless Remembrance Blanket Project
Make donation checks payable to The Charles Bruce Foundation and mail to:
Charles Bruce Foundation
PO Box 914 Carlisle, PA 17013